2011 Racing Season
Extreme ProStock- Morton Brothers MotorSports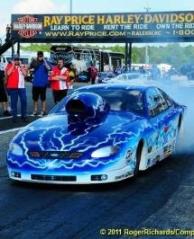 Morton Brothers Motor Sports finished the season at a respectful 6th place in points with 1901.
At Battle for the Belts, the team had the opportunity to go to the semi-finals. They qualified with 4.077 seconds at 176mph to take the 9th position. The team has made several horsepower gains this year and is looking forward to making even more over the winter for next season.
Elijah says, "I would like to give a special thanks to Allen Competition Engines and to the Morton Brothers Motor Sports crew members, Glen, Mike, Grant, and Eddie, for all their support and hard work throughout this season.""
Elijah had a new car for the 2011 racing season! Check out more photos in addition to the one below in the Event Gallery at the top of this page and click on 2011!
Photos courtesy of Roger Richards and Competition Plus.