Breaking News - - --
Morton Motor Sports won the ProStock race at the Summit Motorsports Park in Norwalk, Ohio!
Morton Motor Sports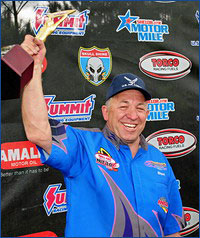 Elijah Morton, Driver
Morton Brothers Motor Sports officially started in 1998, but its history began well before that. Back in the 1970's, Elijah's brother, Glen, was a racer. Glen brought home a Vega with a 454 engine, and the two brothers took it to the local track and immediately became hooked. From the Vega, they ventured to a 63' Corvette and won Top Sportsman. Elijah and Glen went to 5 finals that year, won 2 races, and never looked back.
Elijah says this aboout his favorite part of racing, "We've made a lot of friends at the track and thoroughly enjoy the stiff competition."
For the 2013 season,the team has a fairly new car and it had been very sensitive as far as the setup it would take. After some adjustments and VMP this past race, the car is running awesome. Elijah says it has some fantastic lights, the car is running straight, and it is a pleasure to drive.
Photos are courtesy of Roger Richards and Competition Plus.
Chris Powers - 1015
Elijah Morton - 810
Steven Boone - 809
Johnny Pluchino - 716
John Montecalvo - 606
Justin Kirk - 576
JR Carr - 423
Bill Neri - 332
Dwayne Rice - 271
Dave Hughes - 268